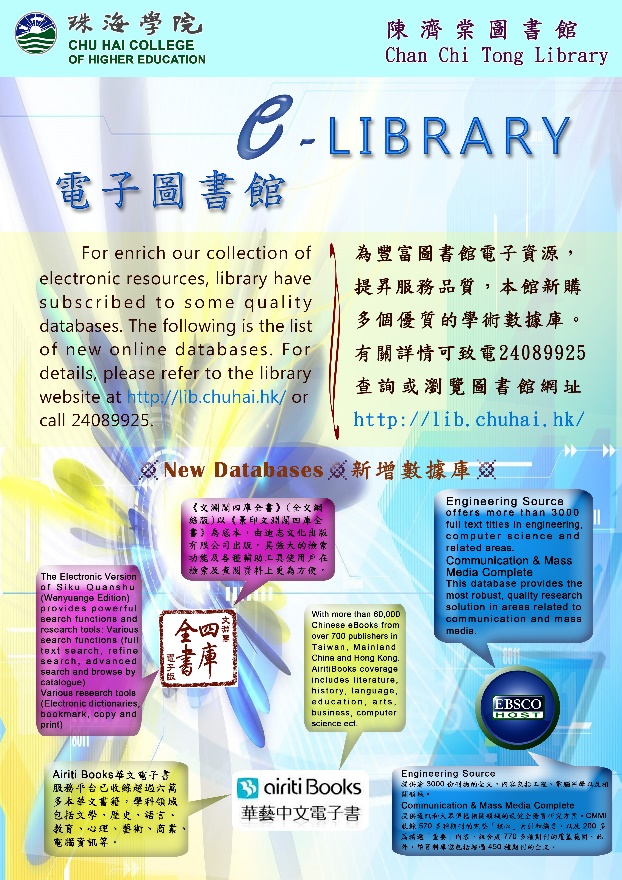 For enrich our collection of electronic resources, library have subscribed to some quality databases. The following is the list of new online databases. For details, please refer to the library website at http://lib.chuhai.edu.hk/ or call 24089925.
Engineering Source offers more than 3000 full text titles in engineering, computer science and related areas.
Communication & Mass Media Complete This database provides the most robust, quality research solution in areas related to communication and mass media. With more than 60,000 Chinese eBooks from over 700 publishers in Taiwan, Mainland China and Hong Kong.
AiritiBooks coverage includes literature, history, language, education, arts, business, computer science ect.
The Electronic Version of Siku Quanshu (Wenyuange Edition) provides powerful search functions and research tools: Various search functions (full text search, refine search, advanced search and browse by catalogue) Various research tools (Electronic dictionaries, bookmark, copy and print)